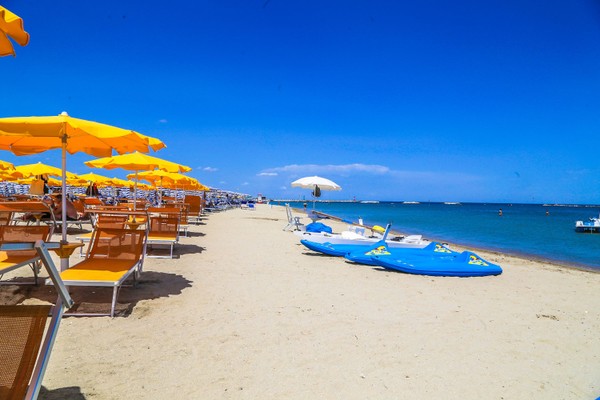 ---
It's finally official: Saturday 23 May, the seaside tourist season begins.
These are the guidelines for bathing establishments

In summary, the protocols with the post-emergency coronavirus bathing guidelines provide for a minimum umbrella surface of 12 square meters (approximately 4 and 3 meters between the umbrella and row posts); 1.5 meters between the beach equipment, such as sunbeds and deck chairs on the shoreline; numbering and assignment of seats or umbrellas; stewards specially trained to accompany guests to an umbrella or sunbed; meals ordered through a delivery service with delivery for consumption on the umbrella-bed, or in catering areas able to guarantee social distancing; play areas for children demarcated and with a maximum number of admitted admissions; toilets, showers and cabins cleaned and disinfected every day and with every change of clientele.

As far as free beaches are concerned, access remains free, however, the directives already provided for the bathing establishments are applied to them: users must maintain the safety distance between the 12 m2 umbrellas (approximately 3 mx 4 m), walks and motor activity to be carried out keeping the distance of 1 meter. Distance of one and a half meters for those who use a single position, with a towel. The rescue service will be active from 13 June in the establishments for which, at the moment, only heliotherapy is provided. You cannot stop on the shoreline and create gatherings. The free beaches will be equipped with information signs that will illustrate the rules to follow in this period of maximum attention.